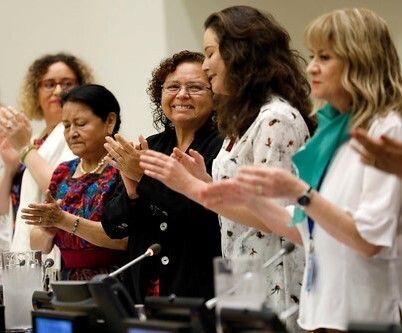 Anyone who has translated documents before knows it's not simply a matter of converting words from one language to another. The translator must understand the nuances of language, must have a handle on the idiomatic expressions of the language, must be able at times to comprehend the personality of the writer being translated, and also must grapple with the culture of the original material and how it impacts the text.
It was thus no small challenge when, over a year ago, the Cultivating Healthy Intentional Mindful Educators (CHIME) initiative began the process not just of translating materials into Spanish, but of trying to translate a whole training program into another cultural context. But when Preschool Development Grant funds became available to fund the project, University of Nebraska-Extension educators reached out to specific Spanish-speaking providers across the state to build a pilot project of 7 participants who would begin CHIME training in Spanish.
The group was assisted by Natalie Magnetta, who is fluent in Spanish, and could work with the group to adapt CHIME practices so that they were more relevant to the participants. As expected some material didn't work well in translation. Holly Hatton -Bowers, who heads the initiative, describes a mindfulness and emotional activity that "just didn't work. We needed to adapt it to a more relevant metaphor."  Another core aspect of CHIME is creating a sense of belonging. Linda Reddish, a Nebraska Extension Educator, who attended the group said that, "Belonging in action feels safe, sounds like sharing of stories, and honors the diversity of perspectives and thoughts within the cohort." These ways of fostering a sense of belonging for this group, Hatton-Bowers describes, included "speaking and meditating in Spanish, creating a shared space of classroom resources in Spanish, and always allowing the space and time for reflecting and honoring individual experiences with the activites."
Even though there were stumbling blocks, the provider's reactions to the training was overwhelmingly positive. One provider said of the personal impact CHIME had on her, "Sí. Me ha dado más paz y tranquilidad en mi vida. Razonar en lugar de Reaccionar es lo que más aplico últimamente, además de la gratitud y la compasión" (translation: "Yes. It has given me more peace and tranquility in my life. Reasoning vs Reacting is what I apply the most lately, besides gratitude and compassion"). Another woman commented on the training's impact on her class, "Hemos practicado la respiración cada vez más y mejor, lo cual ha funcionado mucho para tranquilizar la clase en general" (translation: "We have practiced more and better breathing, which has worked a lot to reassure the whole class").
One of the most important elements of the training for all involved was the community building that occurred as the group worked together. Hatton-Bowers said, "the providers appreciated having this community to discuss the challenges they face and how these practices help them cope with them." Several providers reinforced this idea when asked about their favorite part of the training. One woman said, "Me encantaron los recursos y la participación de todas, fue muy enriquecedor (translation: "I loved the resources and everyone's participation, it was very enriching"). Another provider commented, "Me gustaron los grupos pequeños con las otras mujeres. También disfruté los proyectos" (translation: "I liked the small groups with the other women. I also enjoyed the projects").
The pilot group has laid the groundwork for further Spanish-speaking training in CHIME. Two of the providers involved will go through trainer certifications in September so that they can teach other providers. Work also is underway to recruit another group of Spanish-speaking providers for training in the fall. Hatton-Bowers points out that while training isn't mandatory, it is "important to use more personalized approaches when facilitating mindfulness programs. The participants should be involved in co-creating the program, informing the practices, which will happen as we continue to pilot the Spanish-speaking training for CHIME."
She adds, "our first pilot found that overall family home providers really like CHIME because of the relationships that formed; they shared how they didn't feel so alone." This pilot work points out the necessity of both translating and adapting our practices to build local communities and to create a more inclusive system.