We are looking for early childhood organizations who would be willing to host watch parties around the state. You would need:
A large screen on which to view the conference;
A sound system that would provide enough volume for a larger group;
A computer system with Zoom installed and that can handle video streaming without streaming issues;
A room large enough to accommodate a larger group (10 or more). You may need an additional room with redundant systems to stream the conference in Spanish if you expect Spanish-speakers to attend.
Optional: refreshments and childcare. Should you need funding, please contact Mariana Munoz de Schell at mmunozdeschell@nebraskachildren.org.

Tips for Hosting a Watch Party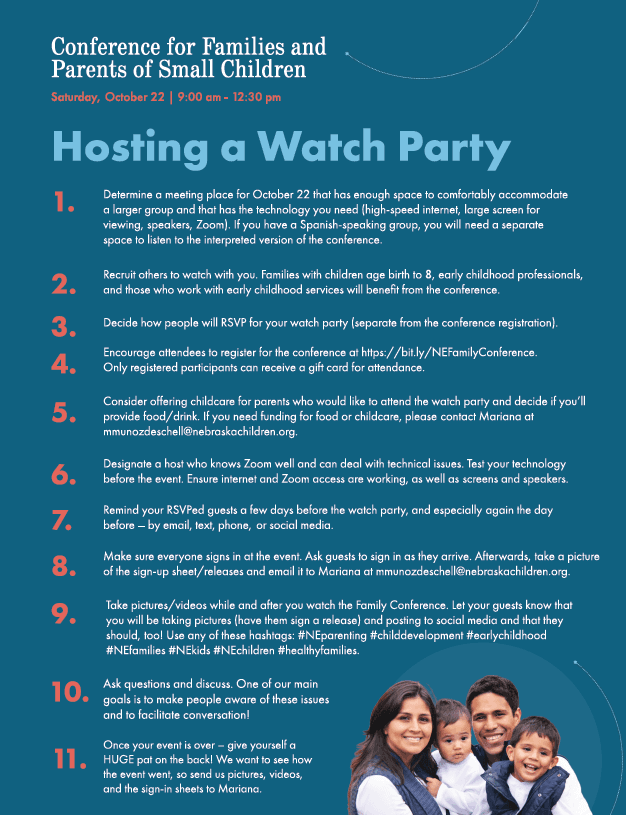 Click on the image to download Watch Party Tips
---
Thanks to those Organizations Hosting a Watch Party
County                        City/Town                        Location                         Host
Colfax                          Schuyler                           C4K                                  Kim Parsons
Dakota                        Sioux City                          Siouxlandship               Kathy Moller
Dawson                       Lexington                          ESU10                            Maricela Novoa
Douglas                       Omaha                              NECC Office                   Ilissa Talkington
                                                                                 3200 N. 30th St.
                                                                                 Suite 200
                                                                                 Omaha, NE 68111
Richardson                   Falls City                            Sixpence                        Susan Johnson
                                                                                  1707 Stone Street
                                                                                  Falls City, NE 68355
---
Direct questions concerning Hosting a Watch Party to Mariana Munoz de Schell.