Ready Rosie is an evidence-based, birth-elementary age family engagement resource offered through Nebraska Children and Families Foundation that utilizes "modeled moment" videos that can be shared with caregivers by providers as a means of working together to target specific skills and to individualize provider care. Ready Rosie enhances communication between providers and parents and builds stronger bridges between the developmental work being done at home and in the provider's care.
What Ready Rosie Offers
Over 1,000 "modeled moment" videos in English and Spanish that encourage real-life learning moments through peer modeling.

The ability to communicate developmental information and videos to families via text, email, and website.

Learning games and activities that use current research on family engagement, state and national standards for developmentally appropriate practice, and up-to-date social and emotional competencies.

Interactive family workshops that can be tailored to address such topics as positive discipline strategies, healthy routines, language development, developmental milestones, fostering play and social emotional development.

Professional development for providers that enhances the overall impact on children and that facilitates connections between families and providers.

Data that can be tracked by providers and parents as a means of measuring progress toward milestone achievements.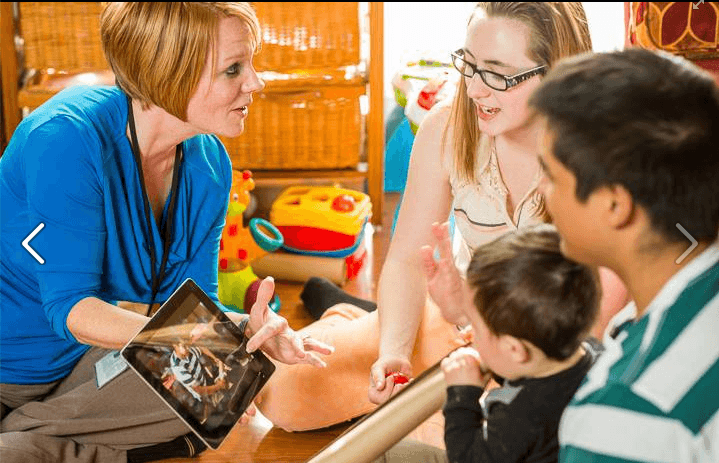 Nebraska's Ready Rosie
Ready Rosie currently serves 400 classrooms statewide and over 3,000 children.

The initiative aims to add another 50 classrooms over the coming year and an additional 1,000 children.

Ready Rosie provides startup training to new classrooms and maintains ongoing training and support for existing classrooms.
In Year 2 of the Preschool Development Grant, Ready Rosie added an Expansion Program that is coordinated through a joint effort of the Nebraska Department of Education and The National Center for Family Learning. This expansion will work with school districts and Head Start programs to build meaningful family engagement opportunities.
---
Ready Rosie Contact: Marti Beard
Ready Rosie Expansion Contact: Jessica Boren