NEBRASKA EARLY CHILDHOOD STRATEGIC PLAN
The Nebraska Early Childhood Strategic Plan is a dynamic plan by and for all Nebraskans. The plan recommends changes to the systems that serve young children and their families to ensure that each child has equitable access to quality early childhood education. 
Community Collaborators Involved in Revising the Strategic Plan
Community collaborators (including families and members of the early childhood workforce) are working together to update the Nebraska Early Childhood Strategic Plan. Since July 2022, community facilitators hosted meetings with over 300 people across Nebraska to identify strategies to create equitable access to quality care for every child.   
These community-led meetings were called SPEAQ Up! Nebraska, which stands for Strategic Planning for Equitable Access to Quality early care and education.  
The top priority for SPEAQ Up! Nebraska in 2022 was reaching people in more communities across the state—including rural areas, people of color, families of children with disabilities, Spanish-speaking communities, and more.  
The last SPEAQ Up! Nebraska meetings were held in February 2023.  
In total, 22 facilitators hosted 52 meetings, and 10 of those meetings were held in Spanish. 

Of the 306 people who participated, 141 were parents of young children and 20% of those had a child with a disability.  

25% of the participants identified as Hispanic, 11% identified as Black, 10% as immigrants. 

Sixty- nine percent of participants live outside of the large urban counties (Douglas, Lancaster, and Sarpy). 
Strategic Plan Vision and Goals
The overarching vision of the Nebraska Early Childhood Strategic Plan is to provide all Nebraska children and their families with access to quality early childhood care and education and other essential services that support children's healthy development from birth through age 8. 
The plan defines four interrelated goals, each with corresponding objectives. These goals are intended to create a more integrated early childhood system—and work on any one of the goals will impact and inform the other goals.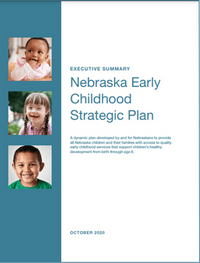 Access Goal—Each child and their family can access the quality early childhood care, education, and essential services they need to support each child's healthy development.

Quality Goal—All early care and education settings provide quality experiences for children.

Collaboration Goal—Communities coordinate a locally designed mixed-delivery system that provides continuous care and meets the needs of families.

Alignment Goal—Statewide systems align to support communities in creating an integrated and comprehensive mixed-delivery system for all children.
Read the Plan Summary
SPEAQ Up!: Listening to Early Childhood Collaborators Across Nebraska
SPEAQ Up! Nebraska meetings were hosted by community-based facilitators who invited families, co-workers, peers, and other early childhood partners to identify strategies for improving equitable access to quality early care and education in their community. These conversations included questions like: 
What would help families in our community access the early childhood services that will build their well-being? 

What would help families in our community find quality early care and education? 

What opportunities exist for collaboration at local and regional levels to improve access to quality early childhood care and education? 

What changes are needed in statewide early childhood systems, policies, and programs to support improved access to quality care in our community? 
Eight meetings were held to get families and early childhood professionals' perspective on the definition of quality early care and education.  During these conversations, parents and early childhood professionals discussed questions like these: 
Does the definition sound like quality care and education to you? 

Are the ways adults can promote a quality experience described the right ones? 

Can you see any unintended consequences of using this definition widely in Nebraska? 
Across all SPEAQ Up! Nebraska meetings, the ideas shared by these parents, early childhood professionals and providers, coaches, trainers, program leaders, community leaders, and business owners will directly shape the objectives, strategies, and action plans included in the 2023 Nebraska Early Childhood Strategic Plan. 
Interested in learning about the recommendations from SPEAQ Up! Nebraska meetings? 
If you would like to receive information and have the opportunity to provide feedback on the revisions to the Nebraska Early Childhood Strategic Plan, please email Holly Hickson.  
Video Resources
Strategic Plan Webinar Video--July 2021
Updated Strategic Plan Explanatory Video – May 2022 
Print Resources
Start here: The Executive Summary provides a high-level summary of key definitions, key needs assessment findings, goals, and objectives; it is available in English and Spanish.
Want to learn more? The Nebraska Early Childhood Strategic Plan provides more detailed information on the strategic planning process and needs assessment findings, including key findings for each strategic goal and objective. It also provides initial implementation strategies.
Have a question? The FAQs page answers many commonly asked questions about the plan.
Want to share the plan with others?
The One-Page Overview introduces the plan and four goals.

The Talking Points identify key takeaways from the plan.

The Values describe how stakeholders want Nebraska's early childhood system to work and how to go about achieving the goals of the strategic plan.

The Presentation Overview introduces the plan, the strategic goals, and key takeaways in a PowerPoint presentation.
---
Organizational Lead: Buffett Early Childhood Institute
Contact: Susan Sarver                                                                                                                                                                        Principal Investigator, Nebraska Early Childhood Strategic Plan                                                                                              Director of Workforce Planning and Development, Buffett Early Childhood Institute