NEBRASKA EARLY CHILDHOOD STRATEGIC PLAN
The Nebraska Early Childhood Strategic Plan is a dynamic plan by and for all Nebraskans that seeks to ensure that each child has equitable access to quality early childhood education. 
The plan was developed through a collaborative statewide process that builds on Nebraska's strengths. It is based on findings from a comprehensive statewide needs assessment conducted in 2019 and informed by input from families, early childhood providers, and other stakeholders representing communities across Nebraska.
Strategic Plan Vision and Goals
The overarching vision of the Nebraska Early Childhood Strategic Plan is to provide all Nebraska children and their families with access to quality early childhood care and education and other essential services that support children's healthy development from birth through age 8. 
The plan defines four interrelated goals, each with corresponding objectives. These goals are intended to create a more integrated early childhood system—and work on any one of the goals will impact and inform the other goals.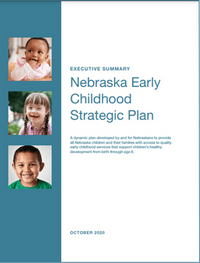 Access Goal—Each child and their family can access the quality early childhood care, education, and essential services they need to support each child's healthy development.

Quality Goal—All early care and education settings provide quality experiences for children.

Collaboration Goal—Communities coordinate a locally designed mixed-delivery system that provides continuous care and meets the needs of families.

Alignment Goal—Statewide systems align to support communities in creating an integrated and comprehensive mixed-delivery system for all children.
Read the Plan Summary
SPEAQ Up Nebraska!
In 2022-2023, Nebraskans are invited to help further develop the plan, with a focus on identifying new strategies and action plans, including strategies to create equity in access to quality care across the state. The first round of stakeholder engagement in 2019 did not reach enough people and therefore some voices are not represented in the plan. In this round of stakeholder engagement, a top priority is reaching people in more communities across the state —including rural areas, people of color, families of children with disabilities, and more —to ensure their perspectives and priorities are included in the 2023 Nebraska Early Childhood Strategic Plan.
We are calling these meetings SPEAQ Up! Nebraska, which stands for Strategic Planning for Equitable Access to Quality early care and education. Because the Nebraska Early Childhood Strategic Plan is by and for all Nebraskans, we are asking Nebraskans to SPEAQ Up! and tell us what changes are needed to reach these goals.
SPEAQ Up! Nebraska meetings will be hosted by community members who will invite families, coworkers, peers, collaborators, and more. These conversations will include questions about what success looks like, which actions are needed to reach the goals, and how to address the significant disparities that exist across the state. 
Video Resources
Strategic Plan Webinar Video--July 2021
Updated Strategic Plan Explanatory Video – May 2022 
Print Resources
Start here: The Executive Summary provides a high-level summary of key definitions, key needs assessment findings, goals, and objectives; it is available in English and Spanish.
Want to learn more? The Nebraska Early Childhood Strategic Plan provides more detailed information on the strategic planning process and needs assessment findings, including key findings for each strategic goal and objective. It also provides initial implementation strategies.
Have a question? The FAQs page answers many commonly asked questions about the plan.
Want to share the plan with others?
The One-Page Overview introduces the plan and four goals.

The Talking Points identify key takeaways from the plan.

The Values describe how stakeholders want Nebraska's early childhood system to work and how to go about achieving the goals of the strategic plan.

The Presentation Overview introduces the plan, the strategic goals, and key takeaways in a PowerPoint presentation.
---
Organizational Lead: Buffett Early Childhood Institute
Contact: Susan Sarver                                                                                                                                                                        Principal Investigator, Nebraska Early Childhood Strategic Plan                                                                                              Director of Workforce Planning and Development, Buffett Early Childhood Institute