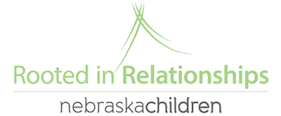 The Social Emotional Support Infrastructure falls under Nebraska Children's Rooted in Relationships, an initiative that partners with communities to use methods that enhance the social-emotional development of children, birth through age 8. The initiative includes supporting communities in the implementation of the "Pyramid Model" and in developing long-range plans designed to shape individual communities' early childhood systems as a means of supporting the healthy social-emotional development of children.
Social Emotional Support Activities
Community Work: OneWorld Health Centers who operates the Learning Community Center of South Omaha, KidSquad, and Nebraska Children are partnering to support early childhood providers and families in the South Omaha zipcode of 68107. Focus groups held with families and providers helped shape a Parent-Provider Advisory Group to discuss options for promoting young children's social emotional development. The Advisory Group chose to use the Pyramid Model with providers and Positive Solutions for Families with parents.
Pyramid Model Implementation: In 2021, three bilingual early childhood coaches and one bilingual Pyramid trainer (who also serves as a coach) began working with 15 Spanish-speaking early childhood providers in the South Omaha area to use the Pyramid Model. The providers work in both in-home and center-based settings. Training and coaching are provided in Spanish. Parents will receive the opportunity to learn about Pyramid practices for the home environment in the coming years.  Find information on the Pyramid Model at the National Center for Pyramid Model Innovations NCPMI (usf.edu).
Systems Work: Pyramid Model training materials were translated so all Spanish-speaking providers across the state can access materials in their native language. Expansion of training for additional social emotional supports such as Circle of Security Classroom and Reflective Practice were also funded.  See webpages for "The Center on Reflective Practice" and "Circle of Security Parenting Classroom" for more information.
Learn More about the Pyramid Model
---
Contacts: Stacy Scholten and Lynne Brehm