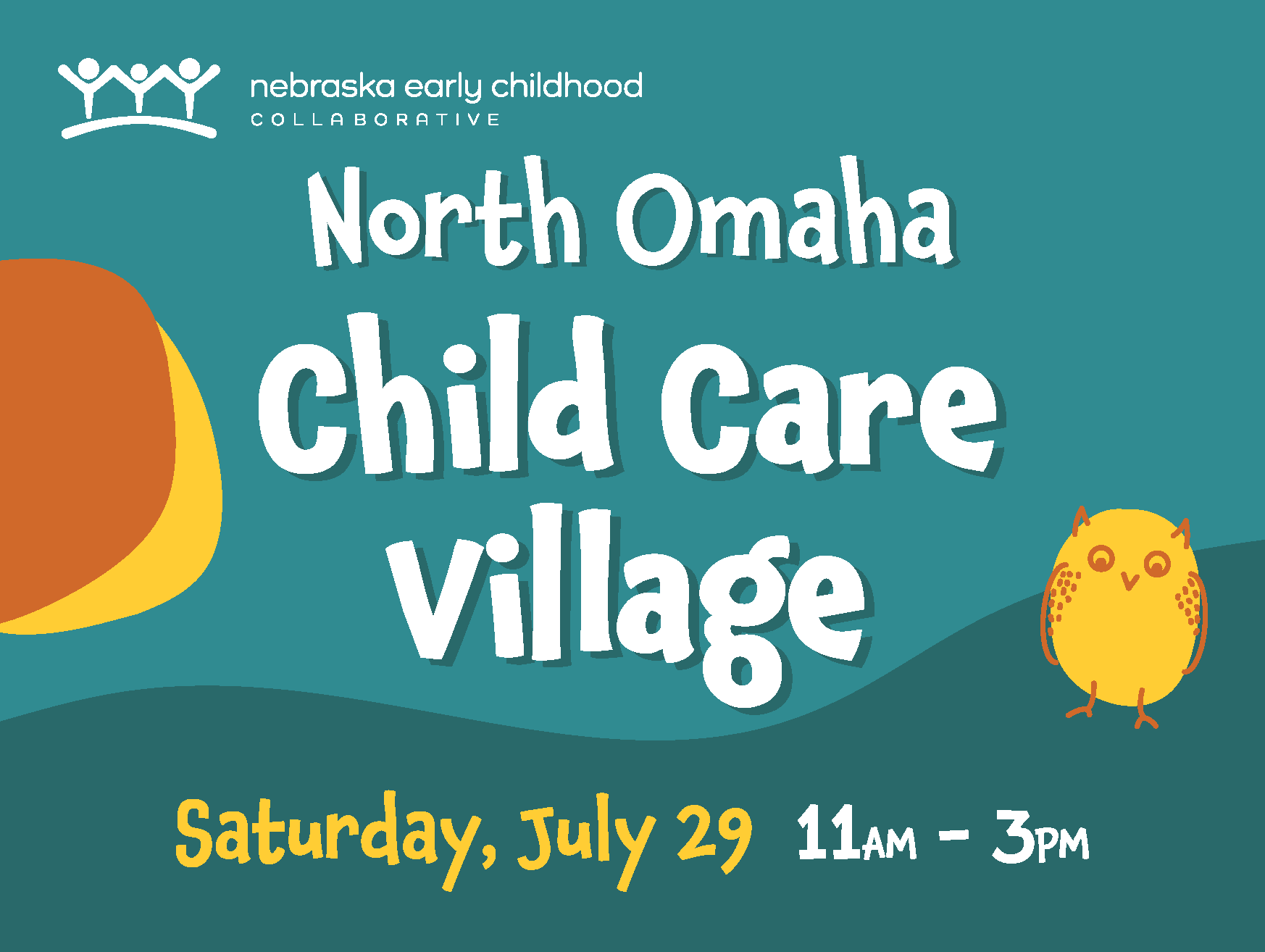 It Takes a Village
Tierra Harper, Nebraska Early Childhood Collaborative's (NECC) Early Childhood Community Coordinator for Douglas County who works in tandem with Nebraska Children's Community for Kids, says much of her work is designed to build a community within a community. She describes an early childcare environment in North Omaha where too often minority owned and operated businesses go unnoticed and undervalued. When asked why this might be, she responded, "people look for the glitz and the glamour of childcare programs. But families often don't know what to look for in quality programs."
Harper says that to create awareness of the early childhood professionals North Omaha has to offer, organizations and community leaders need to "educate parents on what to look for in quality childcare and help them know what questions to ask." To do this, Harper is working with NECC to offer a village at the upcoming Native Omaha Days (July 24-31, 2023).
The first North Omaha Child Care Village will be featured at the NECC offices along the parade route that is central to Native Omaha Days. Native Omaha Days has celebrated the African-American history of the area for the last 45 years and is promoted as a homecoming for those who grew up in North Omaha where they can come back "to visit family, classmates, and friends all while celebrating the invigorating history of North Omaha" (2023 Native Omaha Days website). Activities are centered around N. 24th and N. 30th Streets and include music, food, entertainment, worship, and more, such as a "Hip-Hop thru the Decades" discussion, an African-American book authors signing, a screen of the film Till that will be followed by a talk from Emmett Till's cousin Deborah Watts and the film's producer Keith Beauchamp, and a street-naming and historic marker ceremony to commemorate Vivian Strong.
The North Omaha Child Care Village will then be at the confluence of African-American history and culture and an ideal place, as Harper puts it, for local "childcare owners and directors to come together and work as a community." Harper has deep ties to North Omaha. She grew up there, and her mother has long run the Chosen 1 Child Development Center and is also the Treasurer for the Native Omaha Days committee. She, therefore, knows the importance of building awareness of how important childcare is, of teaching the community how much earlier developmental learning starts than most people think.
She says that the Village will give local early childhood professionals the opportunity to interact with families, to speak to potential employees, and to educate the community on the social emotional aspects of caring for young children. The Village will feature providers offering activities for children or "make and takes" as well as testimonials from current families, and early childhood agencies will also provide information that connect families with the services they need.
Tasha McNeil, who is the owner of Brilliant Brains Learning Center, has been a part of the planning and will be there for the Village to "help bring awareness to North Omaha providers." She points out that there are "lots of centers that are minority owned, but also a lot of people who don't we represent quality."
McNeil's facility is currently a Step Up to Quality Step 2 center that has a capacity of up to 96 children but that currently runs around 60 full-time kids. Her 11 staff members work with children ranging from 6 weeks to 13 years old. She includes music education in her curriculum, STEM activities such as robotics, and is trying to add Stretch-n-Grow Youth Fitness to her program. She even has a slushy trailer called Brilliant Brain Freeze where children can learn aspects of entrepreneurship. Even with all her focus on quality she notes that there is a lack of recognition for providers like her in the community. She says, "there are some great home providers and there are some great center providers," but, she adds, "there is a disconnect between caring for a few kids at home and being a child care professional." She explains that when she tells people she runs a childcare facility, the response is often, "I have a cousin who has a daycare," or "I have a sister who has a daycare." The problem she sees is that not all people who take care of a couple of children at home are committed to child care as a profession.
"Early childhood care and education is not just babysitting kids," she says. That's why she thinks the Village is "gonna be a really good event." She sees it as a place where she will be able to let families know who she is and what she does. To let them see her work is about professionalism and quality. She also hopes to make connections to early childhood services and agencies so that she can be a resource for her community. Furthermore, she sees the Village as an opportunity to network with other local providers. As she puts it, "we can work together. We're a community of childcare centers and providers."
Harper points out how important these communities within communities are. "Early childhood is in crisis," she says. And that crisis is no more evident than in individual communities like North Omaha. The Village then offers a chance to create local awareness, to connect with other providers and agencies, to educate families on the quality work happening with early childhood professionals within their own community. It takes a Village to cope with staffing issues, retainment, and payroll; it takes a Village to connect early childhood professionals with the organizations and services that support them and their families; and on Saturday, July 29 from 11 a.m. to 3 p.m. the Village will be there to support the providers of North Omaha and the families that seek their quality care.
For more information about the North Omaha Child Care Village, please contact— Julia Jackson, Communications Manager, Nebraska Early Childhood Collaborative at hello@nebraskaearly.org.
Learn ore at www.nebraskaearly.org
The event will be held at Nebraska Early Childhood Collaborative
3200 North 30th St.
Omaha, NE 68111