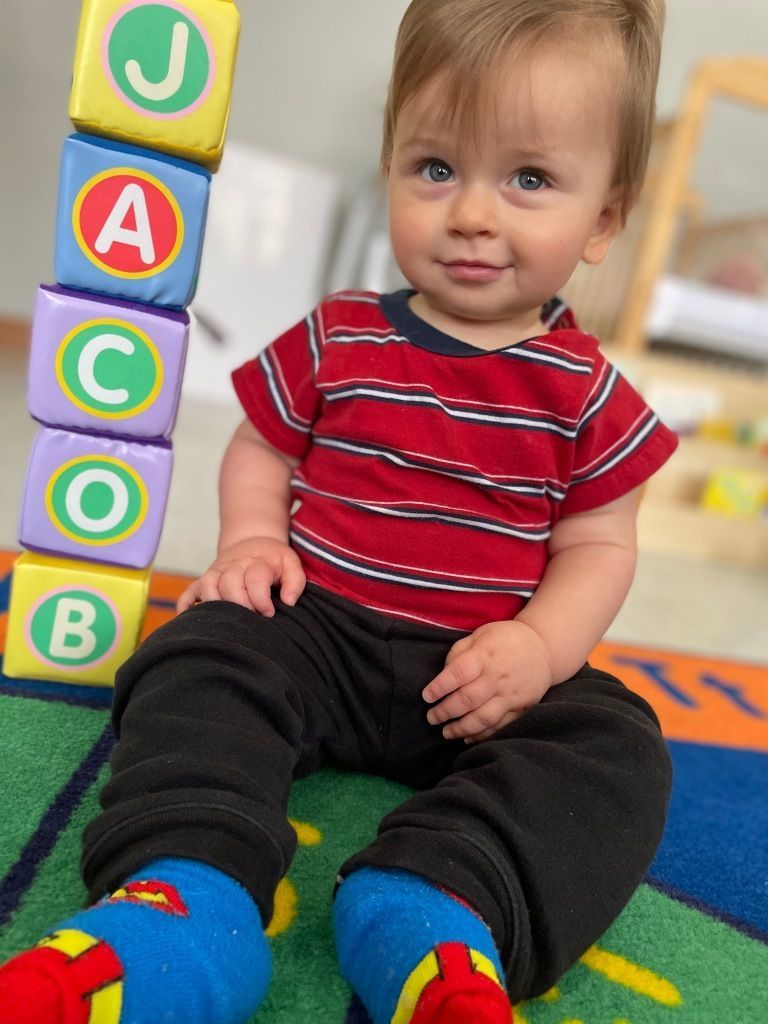 When Stephanni Renn worked through CARES Act applications with the rest of the Nebraska Children and Families Foundation staff, her workdays drastically shifted. "I'd work a nine-hour day, then eat supper, then [review CARES Act applications] for three to four hours. I'd wake up in the middle of the night to do the applications," she said. 
Fortunately, the Nebraska Children Early Childhood team's efforts and our childcare providers' resolve would pay off. Mary Jane Gyll, owner of Little Bear Childcare in Hastings, received Stabilization Funds through the CARES Act.  
"I had four kids [in my care] who didn't come in during that period," she said. "So, I did have a loss of income," said Mary Jane. "The [Stabilization funding] helped with the loss of income – the funding helped with that [enrollment drop] and with purchasing cleaning supplies."  
Mary Jane said that she's stepping into a hopeful future. 
"For me, [the rough times] have come to pass. My families have returned. I lost one child to not coming back, but the rest of my children did. I've been able to regain that business part, but I do have to say I've been very fortunate and appreciated my [Sixpence] coaches in all their support throughout that time. [They] are always making sure we have the information right as they're getting it sent to them." 
Overall, Mary Jane reflects on her struggle with gratitude. 
"It was trying times for everyone, and nobody understood what was going on. It was great to have [Sixpence] support [me], filter through information, and figure out what was good for me and what we needed to know. You're trying to care for kiddos, so it's nice to have the coaches helping you," she said. 
Hope Pile, the director of Pooh Corner West in Hastings, another CARES Act funding awardee, has been adaptable. She joined the center in February 2020 and remained with them until they closed in mid-March due to the pandemic. As the staff restructured, Hope found herself in a leadership role. 
"Initially, I was put in an administrative position just for one location," she said. "Then, we transitioned our entire operations to our West location. It was a lot of changes and quick, but we have such a great, solid foundation, team, and staff, very supportive families, and understanding parents – they really made it possible." 
Despite the team's agility and funding, Hope said they continue to deal with blowback from the pandemic. 
"We still have to use face coverings, do cleanings, and use disposable utensils, and we still incur that cost," she said. 
"Another thing is, if we have a staff member or a child who has COVID and/or COVID exposure, we will have to close down every classroom in which that child or staff member had a presence said Hope.  
"If that happens, we don't require payment from our families, so that would be another case in which we'd be impacted." 
Hope said that throughout these changes, that CARES Act funding was a tremendous help.  
"CARES Act funding allowed us to continue our operations and have extra staff in rooms, so we wouldn't have to move kids around to cross-contaminate other rooms," she said. 
"We also did things like provide disposable plates, forks, and napkins, so we could focus more on cleaning throughout the center, and not worry about reusable items. The CARES Act [funding] allowed us to put extra attention into those things." 
Finally, CARES Act funding helped Pooh Corner West remain financially afloat. 
"While we were closed from mid-March through May, we didn't require payment from our families, but we still had rent due – 2.5 months [worth], and without any tuition," said Hope.  
"[CARES Act] funding allowed us to remain open and meet day-to-day expenses, even though we weren't receiving income from families." 
In-home provider Penny Gerking, owner of Little Gerkin's Childcare, endured the opposite experience of many of her cohort. Instead of enduring an enrollment drop, she began caring for more children.  
"We went from a quiet little group of six small children to a booming group of 11 kids," she said.  
"Five of them [were] school-age children who required me to work on schoolwork with them, connect them with their online learning, and ensure they understood the work they were doing, while still teaching my youngest ones," said Penny.  
In addition to having more children to care for, Penny had to hire someone else.  
"I had to make sure that I had a second adult there when I had that many [children], so it meant paying someone to assist me," said Penny.  
Penny said that the CARES Act funding helped her with mortgage and utilities, with enough left over to pay the extra staff person.  
"[CARES Act funding] took a lot of the stress off of me in knowing I would have enough money to cover everything to keep my business going," she said.  
"Having [Nebraska Children] quickly answer my questions and keep me updated via email was very helpful," she said.  
"I especially appreciated the reminder email that I still had some things to turn in to get the funding, since I got bogged down and busy with all the added tasks of cleaning and teaching so many [grade] levels." 
Despite some relief from CARES Act funding, Penny said she continues to grapple with difficulties.  
"The fear of [COVID] hitting my business and family is still there, and with being a single mom…this [in-home childcare] is my only source of income. It makes me nervous that I could have to shut down for two to three weeks or more if it hits here. It makes the fear even greater," she said.  
Fear has been an undeniable part of the pandemic. As an organization that knows what our communities are capable of when they band together, however, our Early Childhood team knew they had to do the same.  
Stephanni agrees.  
"As a program, everyone was willing to chip in and do their part above and beyond," she said. "Nobody said, 'Steph do this' – we did this because we chose to. Nobody asked; nobody expected it. But Nebraska Children people have a true passion for families and children, and will work hard without the expectation of compensation," said Stephanni. 
Marti echoed Stephanni's sentiment. "Anyone who says they didn't take on more is lying…we held four times more meetings and Zooms than I've ever had. [The meetings] forced us to think about how to blend work with communications with the pandemic. Also, we were supporting communities in [strategies for] how other [forms of] CARES Act funding could be used." 
Marti said that all the compensation she needed was to witness the childcare providers receive their awards. "The reward was that 2,000 childcare providers were awarded the funding," she said.   
"Not one person [on the Early Childhood team] said 'No, we aren't going to do this.' Everyone on the team said, 'If it means more work, it means more work. This is important,'" said Marti.  
Assistant Vice President of Early Childhood Programs, Rachel Sissel, had a story of her own. Rachel said that she was working with an Ogallala-based provider who had never received a response after submitting her CARES Act application.  
Rachel called the provider to ensure that her questions wouldn't go unanswered. After speaking with the woman on the phone and trying to retrace her steps, Rachel said they became lucky.  
"We were able to find her funding notification email in her junk email folder," said Rachel. Once again, however, there was a technical glitch. The provider was in quarantine and unable to access a scanner to send her financial documents as part of her application.  
Chris Nord, a Nebraska Children staff member, knew she'd be in Ogallala that weekend. Rachel said that Chris picked up the provider's documentation and the provider's sister's CARES Act funding materials, too.  
"She was so very appreciative that we could help her out!" said Rachel.  
For Rachel, the most difficult part of reviewing the applications was the waiting. "Of course, we just wanted to get the money out to support providers!" she said.  
But the waiting game isn't over, yet. As early care programs and providers view the future with uncertainty, they display positivity and resourcefulness.  
Kelsee Sayer, who runs Peru Day Care, said that despite her struggles, she possesses some positive insight. 
"Since we're on a college campus, COVID hit us hard. We ended up closing for two months due to a lack of attendance," said Kelsee.  
Kelsee said that during the center's closing, she and her employees felt a financial strain. "We struggled with unemployment, and some of our employees are still struggling with issues due to incorrect unemployment information," said Kelsee.  
"When the children finally came back, it was a big adjustment. Everyone's world's turned upside down, and employees were nervous and unsure how to proceed. Financially, we had to raise tuition rates and put new COVID and pandemic policies in place. We also were hit with rising costs of gloves, bleach, disinfecting wipes, sanitizer, masks, and other cleaning products we must have to be compliant with the state," said Kelsee.  
Kelsee said that to comply with the new sanitizing protocols, her employees began putting in more hours, thus costing the center more in payroll.  
Given these new difficulties, when Kelsee applied for CARES Act funding, she immediately covered her payroll.  
"Being able to cover our payroll costs for three weeks gave us the wiggle room to afford necessities and not charge families who were in quarantine. It also allowed us to have extra paid time for the cleaning of our center that's now required," she said.  
"The CARES Act was a bright light and a peace of mind in such a time of uncertainty. We also were able to tell parents that we were doing all we could to keep costs low, keep our center open, and not charge during times that families were also struggling due to COVID or job loss," she said.  
Kelsee left us with some uplifting parting words. "I feel like some great things have come out of COVID," she said. "We put a bigger emphasis on our health and safety practices, and there's been a big push on why quality childcare should be supported in communities," she said.  
Kelsee parted with some essential words. 
"COVID reminded people that childcare isn't just babysitting, but it is essential to their communities, to them being able to continue to work, and is important in the growth and development of young children," said Kelsee.   
We couldn't agree more. And although we may not know what the future holds, one thing is for certain, we will work alongside our essential early childhood professionals in mutual admiration and trust.