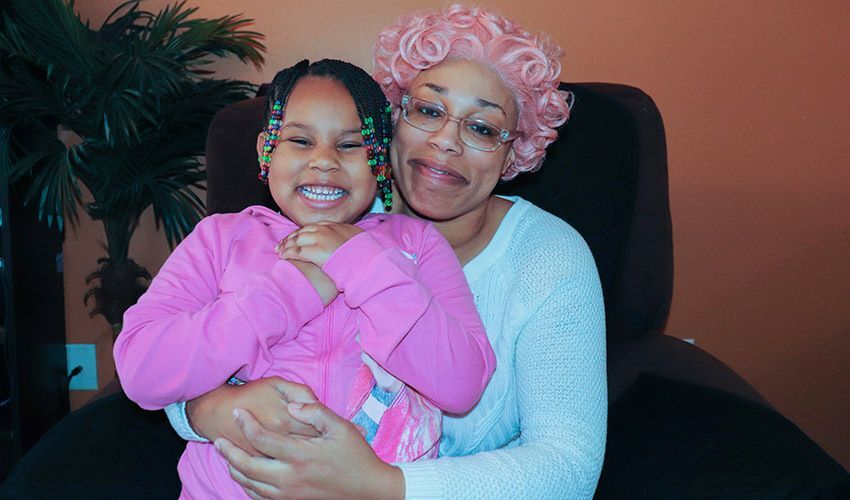 Tosha Wright, an Omaha mom who works outside of her home while raising a 16-year-old and a 4-year-old, is familiar with the struggle of finding child care.

She applied for jobs to support her family and pay for child care—her youngest child loves school. But despite all her efforts, her child care search still wasn't panning out. A part-time job didn't pay enough. She ran into roadblocks when seeking state assistance.

"So, it was like I was getting hired, but I couldn't start because I will have to pay out of my pocket for child care fees, and I couldn't afford that," she says.

Wright was referred to the Coordinated Enrollment Pilot Program, which assists Nebraska parents in accessing quality child care and connects them to additional resources. The program launched in 2020, is administered through the Nebraska Early Childhood Collaborative, and funded by the federal Preschool Development Grant Birth through 5 (PDG B-5).

Coordinated Enrollment specialists work directly with parents, finding out what type of child care they need and educating them on what quality care and responsive caregiving looks like. Specialists also help families apply for resources like Supplemental Nutrition Assistance Program (SNAP) benefits and food pantry distribution.

The work of the Coordinated Enrollment Pilot Program is an effort to put Nebraska children and parents first when it comes to securing quality early child care. Seventy-six percent of mothers with children under the age of 6 are in the labor force in Nebraska, according to the 2021 American Community Survey.

"Child care is such a burden for so many of our families, and we talk about quality, and we talk about all these things, but at the end of the day, they just have to find a place where their kiddo can go so they can go to work, so that they can put food on the table, a roof over their head," said Mary Lariviere, the director of Early Head Start at the Nebraska Early Childhood Collaborative.

A 2021 survey by NPR, the Robert Wood Johnson Foundation, and the Harvard T.H. Chan School of Public Health found that 34% of households with children 4 and under had significant trouble securing child care when adults needed to work during the pandemic.

Like Wright, many families in Nebraska may not know the first step to finding child care, let alone what to look for in a provider. The Coordinated Enrollment Pilot Program provides a checklist to parents so they can note observations and ask questions when they visit providers. Questions range from when the child care program is open, to the type of training the child care staff will participate in throughout the year and what a typical day would look like for their child. Other checklist items include how clean the program is, if the space is warm and inviting, and how well the teachers listen and respond to children.

"Being able to be an advocate for them, and then teach them how to be an advocate for themselves [and] for their child" is part of what fosters and builds the connection between parents and the program specialist, said Adriana Rodriguez, who works at Nebraska Early Childhood Collaborative as a bilingual quality child care partnership enrollment specialist.

Rodriguez is Wright's Coordinated Enrollment specialist. She helped her get a scholarship to pay for her 4-year-old daughter's child care costs at a center Wright says she feels comfortable with, and her child looks forward to going to every day.
"They tell you the activities and what your kids ate through their app. It's a family-friendly daycare," she says. "I'm actually glad that my daughter loves it because she's like, 'Ma, I got to go to school. I got to go to school,' even when she's sick."

Coordinated Enrollment is available for any family in Nebraska, and the program partners with licensed child care providers across the state and Nebraska's early childhood quality rating and improvement system. Brandee Lengel, the vice president of quality child care partnerships at the Nebraska Early Childhood Collaborative, said the program "connects parents in a lot of different ways" to access quality care.

Specialists can consider resources including Nebraska's Step Up to Quality Ratings, NECC's Elevated Network Provider program, and the Child Care Referral Network website. Parents don't have to deal with the technical processes of combing through child care licensing websites and navigating a subsidy application alone, and instead can focus on the needs of their child.

They help "take that off the plate of the parent, and can go to the parent and say, tell me about your greatest needs for child care," Lengel said.

The Coordinated Enrollment team believes their work is impactful and wants to continue to have success stories like Wright's. They are getting the word out about the program through outreach and social media and want community members to share the different opportunities they offer to parents and families.
(Our thanks for this article provided by the Buffett Early Childhood Institute and written by Ashia Aubrey)