Welcome system partners! You'll find detailed information on the history and administration of the grant in these pages as well as useful documents, presentations, videos, and other materials related to the structure of the grant and to funded initiatives.
---
Vision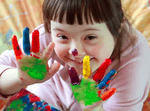 A system where community leaders are working together to provide opportunities for high-quality early care and education starting at birth, and in coordination with the full suite of health, mental health, and social service supports that families may need.
Goal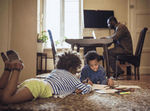 Nebraska's goal in the Preschool Development Grant is to align state systems so they better equip local communities to deliver services that result in parents and families choosing options which support their child's healthy development. 
---
Preschool Development Grant Renewal
The National Department of Health and Human Services , Administration for Children and Families, has notified Nebraska DHHS that an award of $8.9M each year for three years for Preschool Development Grant Birth-Five (PDG) Renewal Grant has been made. Together, contributing partners have pledged $2.7M in matching funds. This award builds on the successful implementation of the Preschool Development Grant in 2019, whose purpose was to encourage more efficient use of federal, local, and private resources to align and strengthen the delivery of existing early childhood services.
The Preschool Development Grant offers an unprecedented opportunity for Nebraska to assess and improve its early childhood system at the state and local levels. It also provides a framework to bring together the combined resources and expertise of state agencies, early childhood and K-12 educators, community leaders, nonprofits and an array of private sector interests for a common goal—to improve the developmental outcomes of our state's youngest children.
Governor Pete Ricketts' announcement of the PDG Renewal Grant
Nebraska has an established national reputation for promoting locally designed early childhood efforts and innovative public-private partnerships. Nebraska's PDG award will build on those strengths by focusing on community-level needs and improving the alignment and effectiveness of early childhood systems. Activities funded through the grant will closely involve parents as the key stakeholders in guiding children's early learning and development. These efforts have included the largest and most comprehensive survey yet conducted in the state of Nebraska families with young children.
Twenty-seven projects (not including project management and communications) will address gaps and align resources within the Early Childhood System in six targeted areas including: 
Statewide Needs Assessment Plan 

Statewide Strategic Plan 

Maximizing Parental Choice and Knowledge

Sharing Best Practices and Professional Development for the Early Childhood Workforce 

Improving Overall Quality and Service Integration, Expanding Access and Developing New Programs, Monitoring, Evaluation, and Data Use for Continuous Improvement 

Meaningful Governance and Stakeholder Engagement.
Organizational Documents